Managing your Calendar is Important!
Many B&Bs underestimate the importance of managing their calendar well. Potential guests appreciate it if your calendar is up to date and shows clearly your availability. This means more bookings. Keeping your calendar up to date is simple and has so many advantages for you as a B&B owner.
Clear overview of your availability
In the Innkeeper Service go to the menu 'My Listing' and select 'My Calendar'. In a single glance, you can see your availability, per room, for the current period.  If you would like to see the availability for other months, scroll through the calendar using the scrollbar (swipe on a mobile device) or select a date from the date box in the top left corner. Reservations, options and availability are shown on the calendar: reservations are green, options are blue and blocked dates are crossed through in red. Please note that options are only relevant if you work with reservation requests. If you work with Instant Booking, the reservations are always directly confirmed.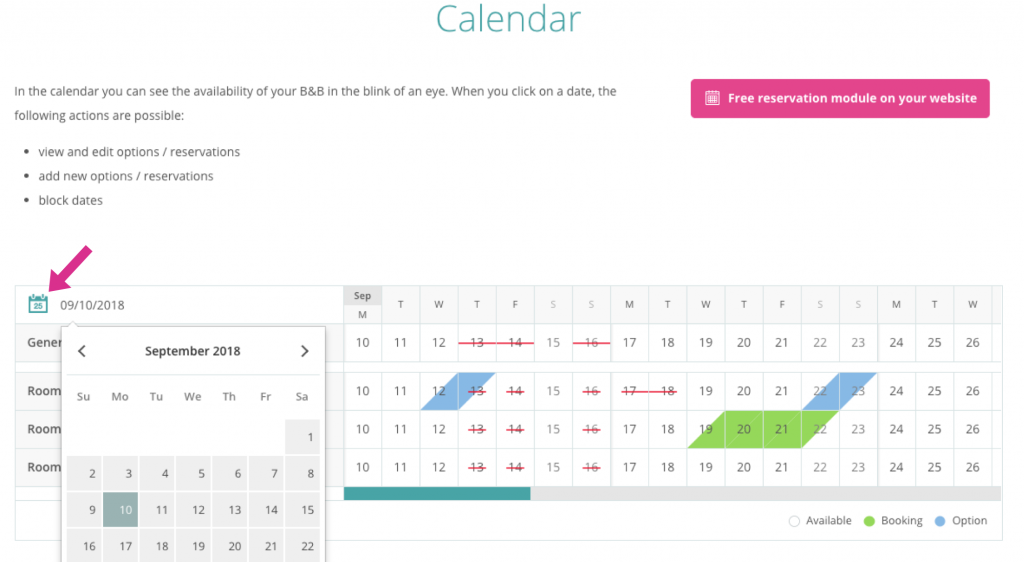 Advantages of an up to date Calendar
Guests can see the availability of your B&B immediately

You avoid disappointing guests (unavailable dates are blocked)

Saves time

Easy to use

More reviews

Higher position in the search results

More reservations
Blocking dates
Make sure your calendar is up to date by blocking the dates where rooms are not available for reservations.
Go to 'My Calendar'

Click on the date you want to block

A new window will open with the activity from the chosen day

Click on the pink button 'Block date'

Add the chosen beginning and end dates and choose a room

Click on the pink button 'Save'
The blocked period will show as crossed through in red on your calendar. Guests will know not to request these dates.
Unblocking dates
A period that you have manually blocked can be easily unblocked. Click on the relevant date and click on the trash icon behind the block.
Saving owner's precious time
By managing your calendar efficiently, you can save so much precious time. You won't receive unnecessary requests for unavailable dates and you reduce the chance of double booking rooms. Plus you avoid disappointing potential guests by having to tell them that you're not available.
Viewing reservations information
From the calendar, it is possible to view, change and add reservations. When you move your mouse over the marked period, a window will appear with the name of the guest. With easily recognisable icons, you can see whether guests are checking in or checking out.
Checking in:  
Checking out: 
In the example below, Piet Janssen will check out on the 23rd August and Inge Daniels will check in.
When you click on a date in your calendar, a new window will open, showing the activity on that day. If you then click on a reservation, you go to the relevant details page and you can see all the important reservations information. 
Adding a Reservation
It is also possible to add reservations manually to your calendar.
Go to 'My Calendar'

Click on the date

Click on the pink button 'Add reservation'

You fill in the details and click on 'Add'. The reservation or option will appear in your calendar.
Get more Reviews
Guests whose details are in the reservations system will automatically receive a review request after their stay. You don't need to do anything. If you get lots of reviews your position in the search results will go up. So make sure that all your reservations are added in the reservation system and you won't miss out on any reviews!
Synchronising calendars
It is possible to link your calendar to a Channel Manager, synchronize it through the iCal system or make the special Booking.com connectivity. Then you can manage all the bookings you get through different websites in one place, and you are able to avoid double bookings.
A calendar on your own website
Do you have your own website? Don't waste money on an expensive reservation system, take advantage of our free Reservations Tool. Read about the benefits for you as a B&B owner and install the reservation tool.
Installing the Reservations Tool
We're here to help
Do you need help managing your calendars or do you have questions about synchronizing your calendars? Then contact us. We're always here to help!
Further Reading:
Share this article: