Two Action Points for Perfect Calendar Synchronisation
Linking your calendar on Bedandbreakfast.eu to the Booking.com calendar, consists of two action points. The 'Synchronisation Booking.com', as it is called in the Innkeeper Service, is action point 1 and continuously retrieves current availability information from Booking.com. We have already established this link for you. For action point 2, we need your help.
Action point 1 – 'Synchronisation Booking.com', in the Innkeeper Service. This continuously retrieves current availability information from Booking.com. We have already established this link for you!
Action point 2 – Create an iCal Connection
Complete your calendar synchronisation with Booking.com by establishing an iCal connection. This connection will automatically update your availability calendars on both platforms. We are happy to walk you through creating this connection below:
How to create an iCal Connection?
Step 1:
Open the websites Bedandbreakfast.eu and Booking.com. Do this in two separate tabs, so you can easily switch between websites.
Bedandbreakfast.eu
Go to 'My Reservations' > 'Synchronisation Settings'
Choose the iCal option
Booking.com
Go to 'Calendar & Pricing' > 'Sync Calendars'
Choose 'Add calendar connection'
Please note: An iCal link is made per room. Therefore, make sure you start with the same room on both platforms.
Step 2:
On Bedandbreakfast.eu, you copy the URL under 'Export the availability information of Room… '. There you choose the second URL.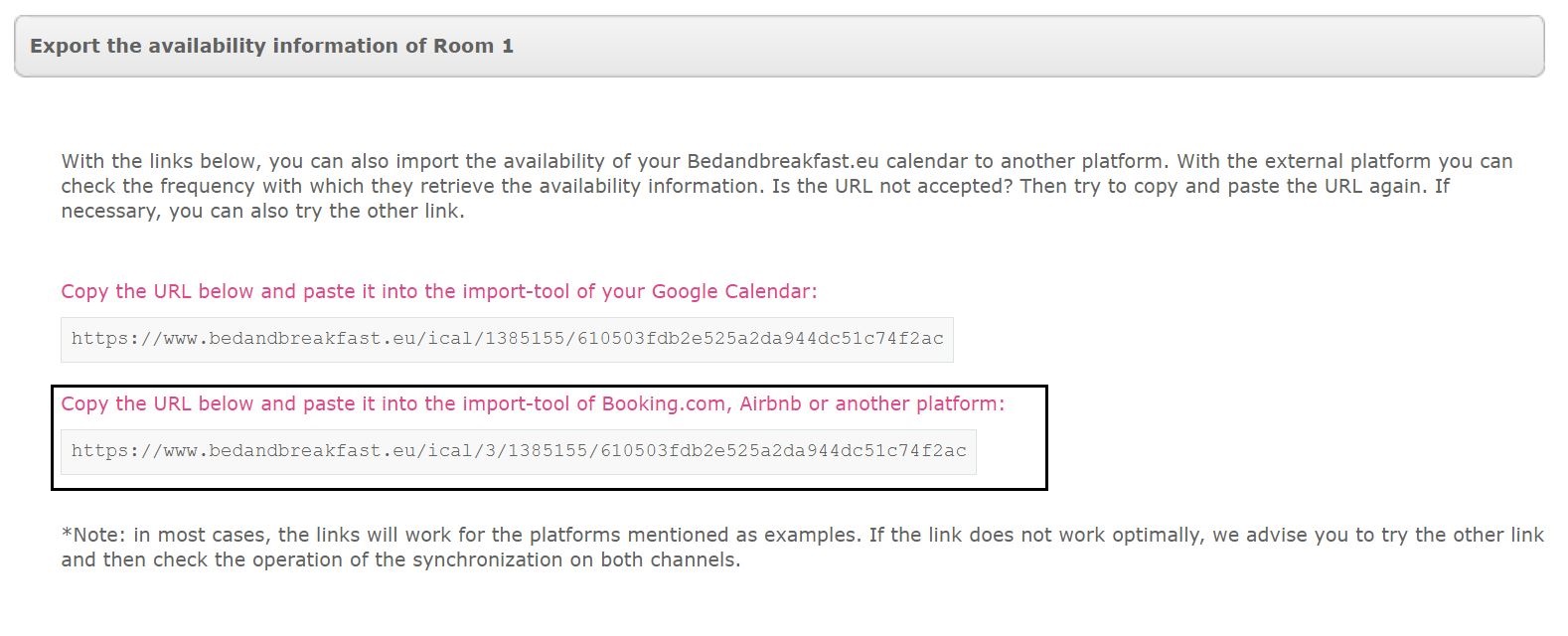 Now go to Booking.com with the copied URL. Open 'Add calendar connection' and follow the indicated steps. Give the link a name, for example: Bedandbreakfast.eu [room name] and then choose 'Next step'.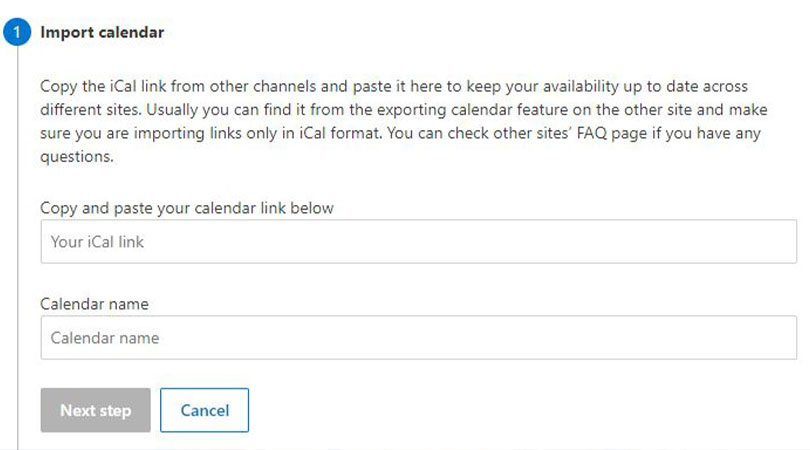 Step 3:
After entering our URL on Booking.com, they will automatically give you a URL back that you can add on Bedandbreakfast.eu. When copying this URL, you can choose whether you only want to import booked data, or both booked data and (manually) closed data. After you have copied the URL, you receive a confirmation notification from Booking.com. An example is shown in the image below.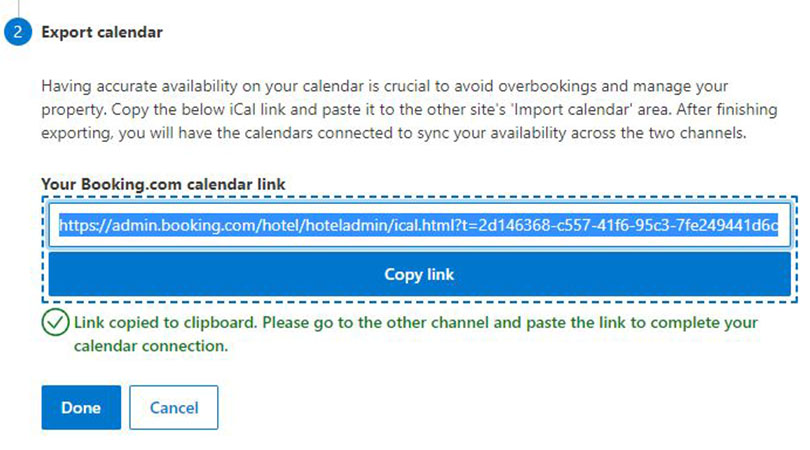 Now go back to the already opened Bedandbreakfast.eu tab. On Bedandbreakfast.eu at step 2, paste the copied link from Booking.com in the field: 'Paste the iCal link in the field below'.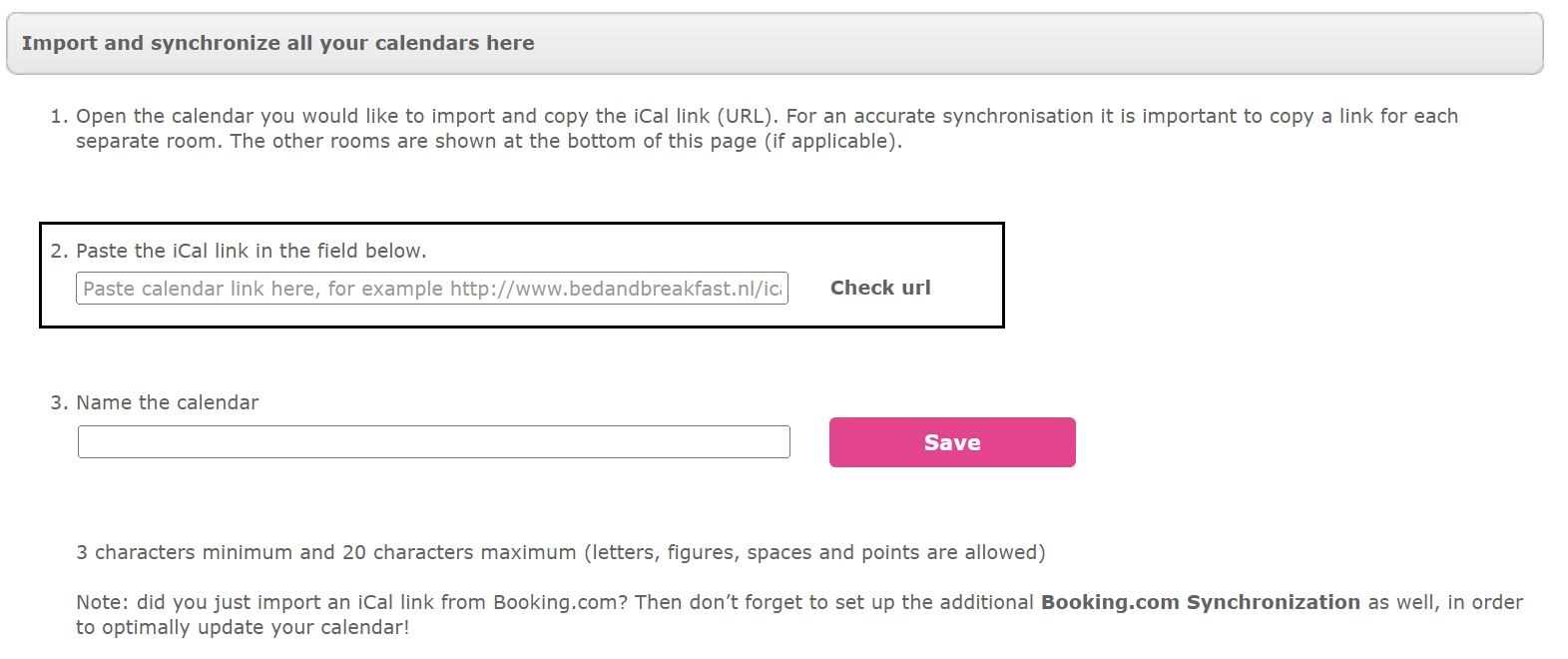 Click 'Check URL' to verify that the link is correct. If the system gives a green check mark, you can continue. Before you can save the link, give the entered URL a name. For example, choose Booking.com [room name]; then you can easily see in the calendar where the blockages come from. Then click 'Save' and your connection with Booking.com is created!
Step 4:
With this last step, it's good to check if the iCal connection is saved correctly on both platforms. On Bedandbreakfast.eu, under 'View imported calendars' you can see whether the link you just entered, has been added successfully.
On Booking.com, you can finish setting up the calendar connection by clicking 'Finish setting' and 'Done'. In the overview you can easily see if the calendar connection with Bedandbreakfast.eu is validated, or still needs to be validated.
Bedandbreakfast.eu does not use room types. You might have to insert the rooms on Booking.com separately first, to make the connection successful.
How does this iCal Connection work?
The iCal Connection that you just set up, ensures an automatic synchronisation between Bedandbreakfast.eu and Booking.com. Every 6 hours, the availability information is retrieved and updated again. It is also possible to manually synchronise the calendar any time you like. You can easily do this by using the 'Synchronize' button, behind the imported calendars.
Need more help?
We hope that the iCal Connection with Booking.com is now successfully established. If you have any further questions about this, please feel free to contact us. We'll be happy to help you out!
Share this article: