In your description, mention the strengths of your bed & breakfast and offer people a clear idea of what they can expect. On Bedandbreakfast.eu, it is simple to add descriptions and translations.
In the owner service menu, click 'My Mention' and then 'Description'.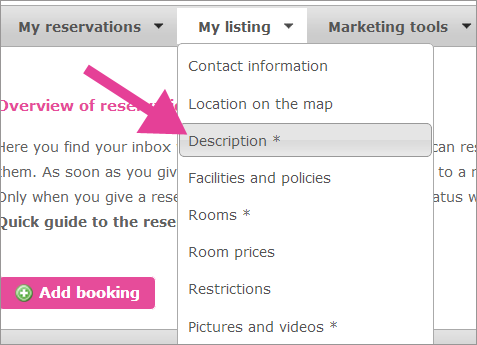 In the first field, type an extensive text about your B&B.
In the second field, write a short text about your B&B.
Now click on the flags next to the input fields to add your translations.
Next, click 'Save'.
Tips for a strong text
In your description you'll want to convince your potential guests to choose your B&B instead of another bed and breakfast. You can do this by standing out. Ask yourself: what makes my B&B unique? Browse through your guest book and read the guest reviews on Bedandbreakfast.eu. What do guests write about? What did they especially enjoy? Let these special features of your bed & breakfast clearly stand out in the text, and in addition, provide information about the facilities, service and the surrounding area.
Translations
You can translate your texts using a translation robot like Google Translate. Of course these translations can be improved. Ask your foreign guests to check these machine translations or, even better, get yourself a professional translation. In our list of frequently asked questions you'll find lots of other manuals for improving your presentation page.