Get the most from your Presentation Page
A good presentation page is essential to attract the most customers. Follow the steps below:
Write an appealing description of your B&B

Add rooms and prices to your presentation page

Add attractive photos of your B&B
Once you have completed this process, your listing will be activated. In this post we will give you more information on how to add pictures to your presentation page.
Why are Photos so Important?
B&B lovers who are looking for a unique bed and breakfast do a search and scan the presentation page in seconds to decide if they want to book or not. Presentation pages with lots of attractive photos are visited more often and achieve a higher position in the search results. Show your B&B in its best light and seduce potential guests into visiting your B&B. Good quality pictures result in more reservations, guaranteed.
Adding Photos to your Presentation Page
Go to the Innkeeper Service

Go to 'My Listing' and click on 'Photos'
Add Photos to the Library
Add photos to the library in the Innkeeper Service by clicking on the pink button 'Add Photos' and selecting photos from your PC. Note: The photos are not yet published on your presentation page. Select an album (overview photos, Bedroom 1 etc) and drag the photo from the library to the album. You can see which photos and how many are selected to appear online. The photos in the albums will appear on your presentation page.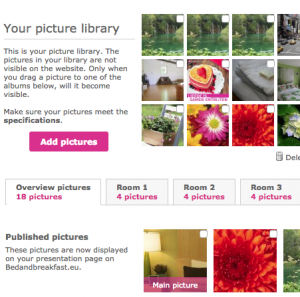 Photo Specifications
Data Size: Max. 20MB per photo

File type: JPEG or PNG

Resolution: Minimum 750 x 500 pixels
Tips
Post 18 photos in the overview album (at least 1 is mandatory)

Add up to 4 photos per room. (1 photo per room minimum)

Use pictures that show the unique style of your B&B

Don't forget the view, garden or surroundings.

Invest in professional photos for the best results

Regularly upload new photos
We're here to Help
Let an expert review your pictures before you add them to your presentation page. If you need help adding or moving photos then contact us. We're always here to help.
Further Articles about Getting the Most from your Presentation Page.
Share this article: