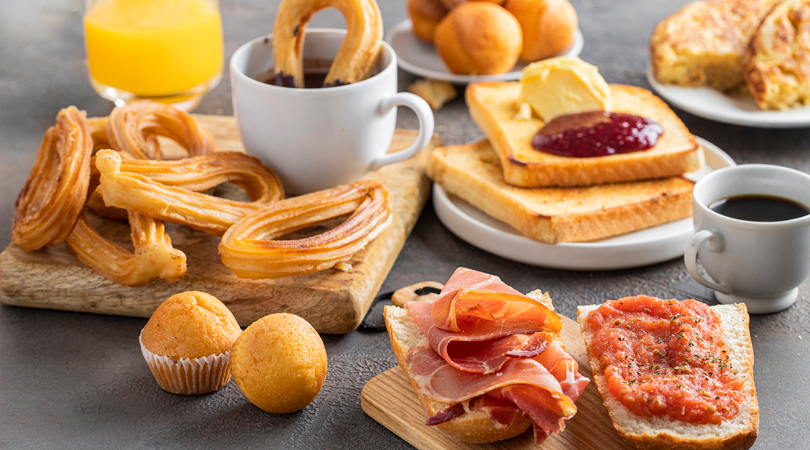 Coffee and ham – Spain
If there's one thing that unites the Spaniards at breakfast time, it is a hot coffee with milk. The other elements of these Southern European breakfasts may vary as you travel between regions, but coffee is ubiquitous! Tortilla pinchos from the Basque region. In Cantabria, some sobaos pasiegos to dip in fresh milk. Bread with tomato, olive oil and ham in Catalonia, or churros with chocolate for a special Sunday treat! Get to know Spain through its gastronomy!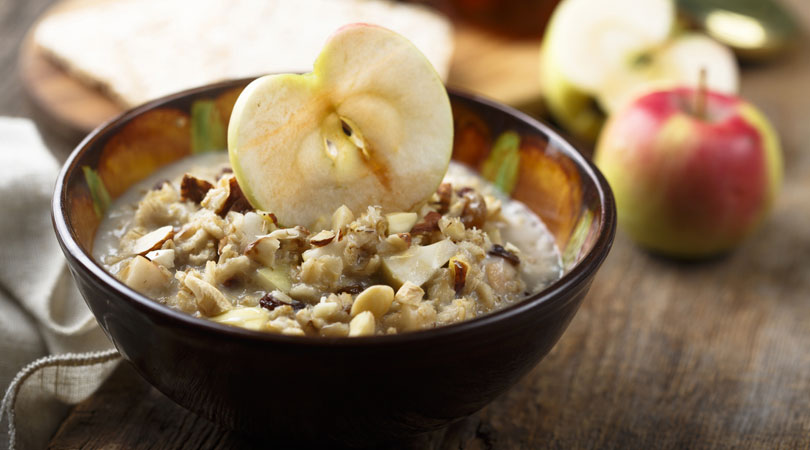 Bircher muesli – Switzerland
One of the healthiest and most popular European Breakfasts comes from the Swiss. It was in Switzerland in the 1900s that Dr Bircher-Benner invented muesli and gave it his name. Bircher muesli consists of oatmeal soaked in water overnight, grated apple, lemon juice, nuts and a little milk, eaten alongside a milky coffee. This guilt-free breakfast served in every Swiss B&B will get your day off to a great start. 
White sausage – Germany
At a B&B in Bavaria, you can expect one of the craziest European breakfasts: beef sausage and wheat beer. The white sausage was invented in Munich 160 years ago. Since then it has been traditionally served before noon with sweet mustard and freshly baked pretzels. Instead of coffee, Bavarians might drink wheat beer at breakfast, which thankfully also comes in a non-alcoholic version!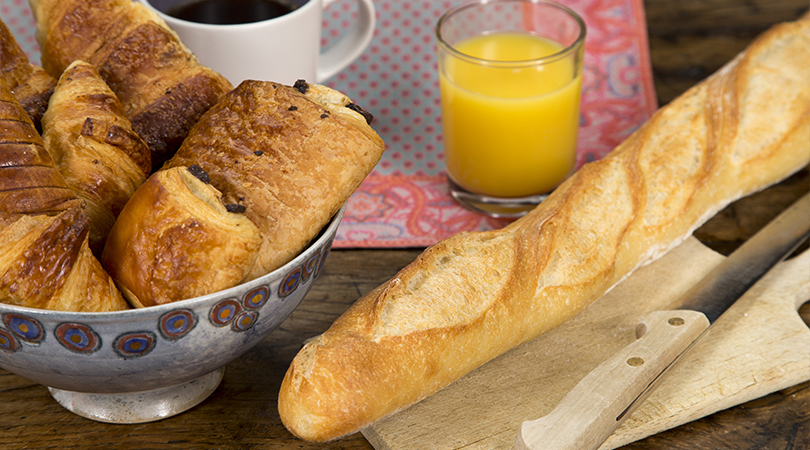 Baguettes and pastries – France
The traditional French breakfast is known to be rich and somewhat unhealthy. But how could you resist it? A typical French breakfast consists of half a crunchy baguette, spread with butter and honey or jam, then dipped in a massive cup of milky coffee. And who could forget the famous pastries: buttery croissants, sweet brioche and sugar chouquettes, all washed down with orange juice. European breakfasts fit for a king!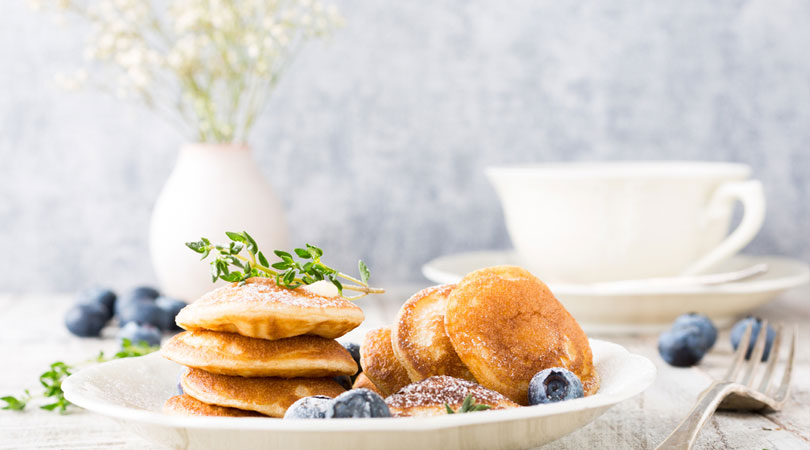 Poffertjes – Netherlands
Freshly baked brown bread, Gouda cheese and chocolate sprinkles are ever-present on a Dutch breakfast table. Dutch B&B owners may also add egg cakes, yoghurt, and fresh fruit. Poffertjes are a special Dutch treat indeed. Mini puffy pancakes, baked in a special pan are drenched in icing sugar and served hot with a knob of butter which melts slowly making delicious European breakfasts!
Bed and Breakfast North-Holland 
Cappuccino and croissant – Italy
Espresso, macchiato, cappuccino, mocha, americano, latte…the Italians live for coffee! It is a fundamental requirement for European breakfasts. Select your favourite type and accompany it with cornetti, a soft Italian croissant, filled with cream, jam, chocolate or simply as is. Don't forget to dip your cornetti in your coffee like a true Italian!
The belly buster – United Kingdom
We could hardly end our discussion on European breakfasts without mentioning the biggest of them all; the great English breakfast! The cooked English breakfast consists of bacon, sausage, fried egg, mushrooms, tomatoes, black pudding, baked beans, toast and copious mugs of tea with milk. You're going to need to loosen your belt for this one!
Share the article: