Synchronise your calendar with Booking.com
With Bedandbreakfast.eu's Innkeeper Service, you can easily link your available rooms to Bedandbreakfast.eu and Booking.com. This link is used by Booking.com to retrieve availability information, meaning that you can avoid double bookings.
How do I set this up?
Step 1
Navigate to the 'Synchronisation with Booking.com' page in the Innkeeper Service or click on the below button.
Step 2
Enter the link to your listing on Booking.com and click the 'Send' button.
Now we take over!
Using the supplied information, we can verify the link and make sure that your rooms are made available for synchronisation. We'll contact you when verification is complete so that you can continue to step 3.
Step 3
Now, a list of your rooms on Booking.com will be displayed. Link every room to the correct corresponding room on Bedandbreakfast.eu.
Step 4
Make sure that all your rooms have 'Linked' status. You can check this in the image of every room.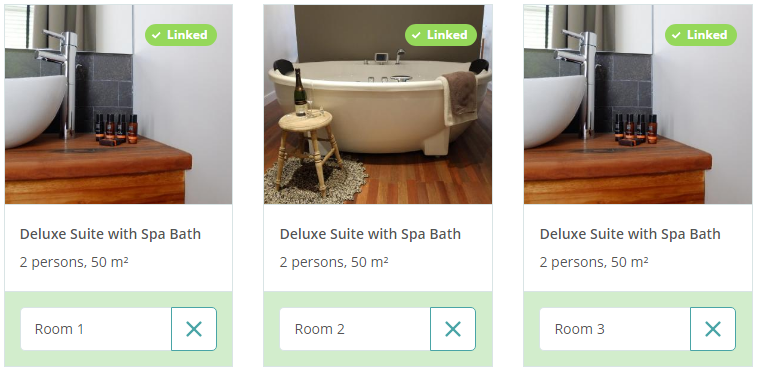 All done!
Now, your listing page on Bedandbreakfast.eu will retrieve real-time availability information from Booking.com.
Please note: Booking.com availability information will only be displayed on your listing page and during the reservation process. Your B&B could therefore still come up in search results, even though you don't have any availability according to your Booking.com calendar.
Best results with an iCal link
Reservations made and periods blocked out on Booking.com don't appear on your Bedandbreakfast.eu calendar by default. To make this possible, you'll need an iCal link. So, for best results, combine a direct link to Booking.com with an iCal link.
With an iCal link, availability information is retrieved from Booking.com every 6 hours and displayed in the calendar. By combining iCal with a direct link to Booking.com, availability information is retrieved in real time AND displayed in your calendar.
Multiple Platforms
If you have listings on other platforms in addition to your listings on Bedandbreakfast.eu and Booking.com, we recommend that you use a channel manager. With a channel manager, you can manage all reservations received from multiple platforms at a single central location.
Need help?
If you need help or have questions about creating these links, please don't hesitate to contact us. We'll gladly help you!
Also interesting:
Share this article: