With a Channel Manager you can manage all bookings you receive through different websites in one central location. When a booking is made, the Channel Manager alters the calendars of all the websites your B&B is connected to. Due to this, less manual actions are needed and you spend less time on doing your administration.
Connecting the calendar in 4 steps
Bedandbreakfast.eu can be connected to the following Channel Managers: Stardekk/Cubilis, Beds24, WuBook, Redforts (Oscar), RoomRaccoon, Amenitiz, Octorate, STAAH and Myallocator. Is your B&B affiliated with one of these Channel Managers? Then quickly follow the steps below to synchronize your Bedandbreakfast.eu calendar:
– Log on to the owner service through www.bedandbreakfast.eu/login
– Go to 'My Reservations' in the menu and choose 'Synchronisation Settings''
– Subsequently choose 'I am using a Channel Manager'
– Click 'Generate Key' to generate the key and subsequently offer this key to the Channel Manager.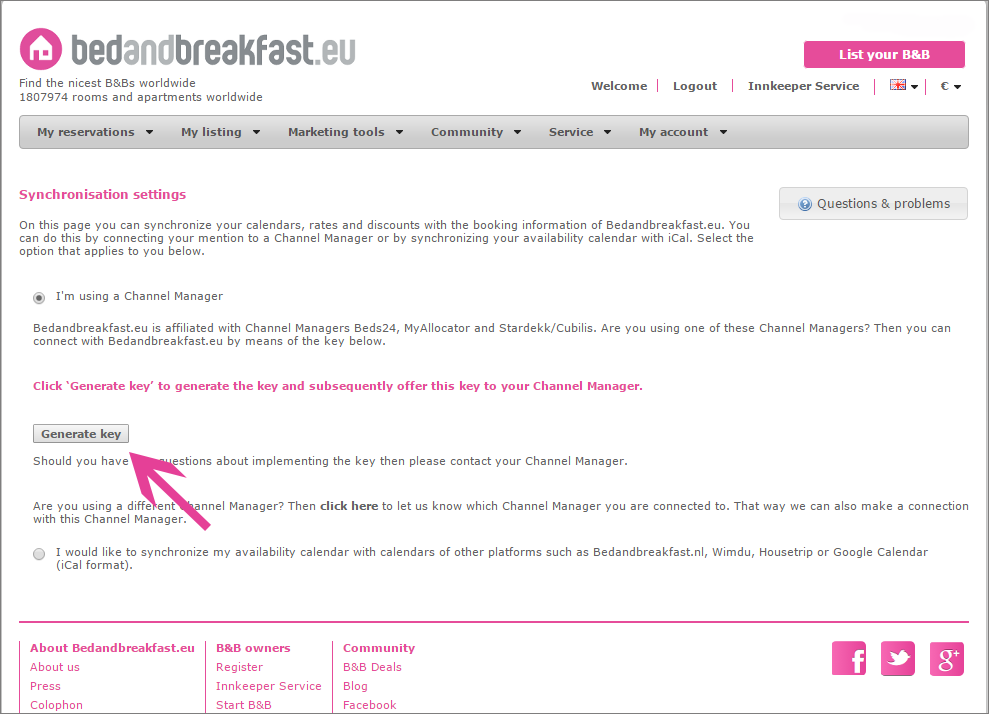 How does it work from there?
After the connection has been established, the availability information is exchanged. If you take a look at the availability calendar on Bedandbreakfast.eu, you will see that the other availability information from the Channel Manager has been added. You only see the non-available dates, because due to privacy reasons, reservation information is not exchanged between the different websites.
Action required with new requests
When you receive a new reservation request through Bedandbreakfast.eu, the status of the request must be changed via the owner service of Bedandbreakfast.eu. As soon as the status of a request is changed to 'Reservation', it will be placed in the availability calendar. After that, the availability information gets sent to the Channel Manager. Possible changes in the status of a reservation also need to be made through the owner service of Bedandbreakfast.eu before they are sent to the Channel Manager.
We are happy to help
Should you have any questions about connecting our calendar to a Channel Manager then please feel free to contact us. For questions about implementing the key it is best to contact the Channel Manager you are affiliated with.